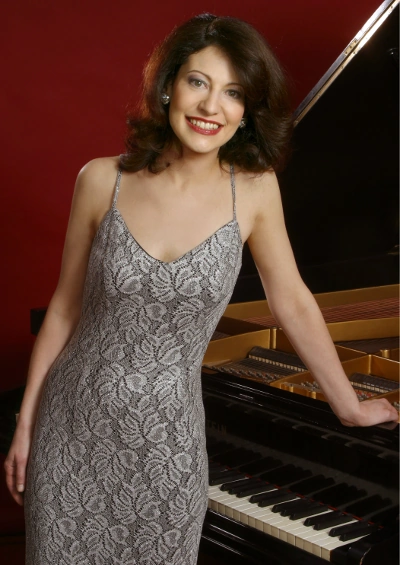 Lisa Caliri has concertized throughout the world to the delight of audiences and critics alike. Philip Dieckow (Pinault Reviews) described her appearance in Weill Hall at Carnegie Hall in New York City as "a splendid performance full of nuance and high contrast, all within superb control." Caliri's active concert schedule has taken her to prominent venues in the USA such as the American Matthay Piano Festival in Phoenix, Westminster Choir College Visiting Artist Series in Princeton and SAI National Convention in Atlanta. Internationally, she has been heard at the National Concert Hall in Taipei, Thai-German Cultural Foundation Auditorium at the Goethe Institut, Siam Ratchada Auditorium, and U.S. Embassy, in Bangkok, AUA Language Center in Chiangmai, Colonial Hall in Hua Hin, Cité Universitaire in Paris, Conservatorio Superior in Tenerife and Curs International Festival in Girona.
Ms. Caliri has been an orchestral soloist with the Czech Radio Orchestra, Dvorak Orchestra, Melrose Symphony Orchestra and Medford String Orchestra. Jackie Wattenberg, critic for The Salem, Mass., Evening News, wrote that her solo with the Salem Philharmonic "demonstrated a confident command of her instrument, her technique was equal to the fast and tricky runs. Her phrasing was musical and her play of dynamics, a constant source of color. Caliri is a fine musician and we hope to hear her again." As an advocate of chamber music, Caliri has collaborated in concerts with members of the Aspen Music Festival, Harvard University Group for New Music, Boston Symphony Orchestra and was broadcast on radio programs in Italy, Germany, Saudi Arabia, Canada and the USA. A champion of American Contemporary repertoire, she has recorded for Mark Masters, CD Baby, Albany Records, New Cyberian, Centorino Productions, the SAI Recording Project, appeared on Nightshift, WCVB-TV, Boston and performed recitals sponsored by the American Music Center in New York City.

Caliri has received many prizes for her musical talent including top prize winner of the Pinault International Piano Competition, Clara Wells International Piano Competition, Crescendo Competition For Young Artists and has been a frequent adjudicator of prestigious piano competitions such as the Thailand Mozart International Piano Competition and Music Teachers National Association Piano Competition. She was also awarded a Yamaha Center Européen d'Activités Scholarship to study in Paris and certificate from the Museum of Fine Arts in Boston for her performances.
Lisa Caliri is a dynamic teacher who has taught piano in the USA as a member of the faculty at The Boston Conservatory, Walnut Hill School for the Arts, piano master classes in Thailand at Chulalongkorn University and the Siam Kolkarn Music School. A music educator on a broad range of topics, she has been a guest speaker for many auspicious music groups including Steinway & Sons, the Music Educators National Conference, the University of Kansas Music Department, the New England Piano Teachers' Association and has published articles in The Matthay News and Pan Pipes.

A PDF version of the biography, which is suitable for printing, may be
downloaded here
.